We've written a number of guides to our favourite photography gear, including a guide to the best travel camera, best action camera, and best camera for hiking and backpacking.
Unfortunately, cameras, lenses, and other pieces of photography equipment tend to be quite expensive. Once you add in the cost of a lens or two and some accessories like memory cards, the cost of your photography setup can be high and may quickly go over your budget.
Thankfully there is a way to get around this, which is to buy used camera equipment.
You can save money on camera equipment if you buy it second hand or refurbished. This is true for both camera bodies and lenses.
The technology in camera bodies can move quite fast, with new sensors, focus systems, and screen technology making more recent models compelling even for folks who already have a camera.
This means folks are often upgrading, so it's usually not too hard to find a used camera body. You might miss out on the latest shiny bit of tech, but in most cases, this won't make a huge difference to your photos.
Lens technology is not so fast paced. So even if a lens is a few years old, it will often be just as relevant and useful today. However, as folks change camera systems and upgrade, they do often upgrade their lenses, meaning you can usually get great deals on second hand lenses as well.
We're going to cover a range of options for where to buy used cameras and camera equipment, both online and offline. We'll also share some tips for what to look out for when buying used camera gear.
Where to Buy Used Cameras and Photography Gear
Here are some of our recommended places to buy used cameras and photography equipment, both online and offline. These include options for buying from individuals and companies, and both second hand and refurbished camera equipment.
Amazon
As the largest online retailer in the world, Amazon of course is a natural place to buy camera equipment. They sell a huge amount of cameras, lenses, and other photography accessories.
Amazon is also a good place to go for second hand camera equipment. There are a few options you have when buying used camera equipment on Amazon.
First, Amazon operates the Amazon Renewed program. Products sold under this program come with a 90 day guarantee where you can get a replacement or refund of the product.
Sellers who list items under the renewed program have to meet Amazon's quality standards for their renewed program, and the goal is to sell products that are as good as new. Essentially, this should be high quality refurbished camera bodies, lenses and other gear. You can read more about the Amazon Renewed Guarantee here.
If a product is available renewed, there should be a link on the listing somewhere offering you the option to buy the product as renewed.
As well as the renewed program, you can also buy used products through Amazon. To do so, when looking at a product listing, choose the "Buy Used" option.
Depending on the popularity of the product in question, and availability, when you select the buy used option you should be presented with a list of sellers who have the product available.
Each version of the product available from the different sellers will have a description which should describe what condition the product it comes with and any warranty they provide, as well as the returns process.
The seller will also have a rating, so you can get an idea of previous customer experiences. We'd definitely only recommend purchasing from sellers with higher ratings and generally positive reviews.
Amazon is definitely a good option when it comes to buying second hand camera equipment. If you are worried about quality and defects, we recommend only purchasing through the Amazon Renewed program which includes the 90 day warranty.
Availability: Worldwide, with some exceptions
eBay
Of course, you can't think of used products without thinking of eBay – the original online auction house.
eBay is definitely a great option for used camera equipment, and we've bought a number of second hand camera lenses on eBay with great results.
You have a number of options when buying used camera equipment on eBay.
Normally, when you do a search on eBay for a specific product, all the options will come up, including new, refurbished, and used products. You can filter the search results to only include the type of item you are looking for, but it's probably worth keeping all the results so you can compare prices between new and used items.
After all, if there's not much price difference between new and used versions of the product, you might prefer to spend the little extra for a new product.
Then, listings will either offer a "buy it now" price, or you will have to bid, like a traditional auction house.
Which you decide to go for will of course depend on you. You might get a great deal with the auction model, but if you see a good deal on a "buy it now" product, then it could be worth just going for it.
Obviously, don't forget to factor in other costs as well, like shipping and any taxes (if the item is outside of your country).
When it comes to buying a product on eBay, make sure to check the seller's rating to see if they have a good history, and look through the description and images carefully to be sure the item is in good condition.
There are also two main types of seller for camera equipment on eBay. There are individuals who are just selling unwanted equipment, and then there are businesses like camera shops.
You might not expect an individual seller to have many ratings, but a business should have a good number of ratings. A business might also offer their own warranty on any items sold.
Finally, eBay offers good protection to buyers with the eBay Money Back Guarantee, which covers you if the product is not as described. In most cases, you should be able to get a replacement item or a refund.
Availability: Worldwide, with some exceptions
B&H
B&H are one of the most well known photography stores in the US. Business is primarily conducted through its online website, but it does have a physical store in New York City as well.
Despite being based in the US, B&H does ship internationally to most destinations around the world. However, if you are shopping internationally, the import fees and shipping fees may make a purchase somewhat expensive, in which case a local Amazon, eBay, or other photography store might be more economical.
When it comes to second hand camera equipment, B&H has a dedicated used section on their website here.
I will say that the selection is not as wide as some of the other stores in this list. However, the prices are competitive, so if there is a specific model you are looking for it is definitely worth checking their listings to see what they have.
B&H covers used items with a 30 day refund period and a 90 day parts and labor warranty, and you can read all about that here.
Availability: Worldwide, with some exceptions, but shipping and import costs can be high
Adorama
Another popular store for photographers is Adorama, who have a physical store in Manhattan as well as a large online presence.
Like B&H, Adorama also have a used equipment section on their website, as well as a selection of refurbished cameras and refurbished lenses.
They also ship worldwide to over 200 countries, although again, you will want to check shipping costs and import duties for your country before ordering, as these might eclipse any potential savings.
They have a reasonable selection of second hand cameras, lenses and other photography equipment on their site, which is given a condition rating, so you know what condition it will be in.
Used products bought from Adorama come with the Adorama used product warranty, which depending on the condition of the product, will cover it for 0 – 180 days. You can read the warranty here. An important thing to note is that the warranty is only applicable in the US.
Availability: Worldwide, with some exceptions, but shipping and import costs can be high
KEH
KEH is a little different to the other options in our list. This US only store focuses on selling (and buying) used camera equipment almost exclusively.
The stock they sell is bought from photographers, and KEH put it through a quality check. The products are the listed for sale on their website. They have a large choice of camera equipment, and back each item with a 365 day warranty.
There's also a 14 day return window whereby you can get a full refund, subject to their returns policy.
KEH is definitely a great option if you are based in the US and looking for used cameras, used camera lenses, and a range of other photography accessories and equipment. It's also a good option if you have camera equipment you want to sell.
Availability: USA only
Camera World UK
If you're shopping for used cameras in the UK or Europe, specialist photography store Camera World UK is a good option.
As well as a number of physical stores across the UK, they also have a website which offers shipping across both the UK and the majority of Europe.
Camera World UK has a dedicated section to used camera equipment on their website here. They have a reasonable selection of used products at good prices, and all their products sold with a value over £50 come with a 6 month guarantee, which covers them for manufacturers defects. They also offer a 7 day no questions asked money back guarantee.
Availability: UK and Europe only
Your Local Photography Store
When it comes to buying used photography equipment, many people will naturally gravitate online. There's a wide choice and it's relatively easy to find what you want.
But don't discount your local bricks and mortar photography store. There are still many physical camera stores in towns and cities across the world, and they often have an excellent selection of used cameras and camera accessories to choose from.
The advantage of shopping in person is that you can inspect the equipment personally before you buy it, to ensure it is in full working order. You'll also be able to talk about your needs with a knowledgeable professional, who should be able to give you advice as to your purchase, as well as ensure that all the equipment you buy is compatible.
In addition, if you have any problems with the equipment, you should be able to take it back and have it looked at.
Of course, many of the same tips for buying used camera equipment as outlined below apply when buying in a physical store compared to buying online. And you'll also want to ensure any equipment you purchase comes with either a warranty or a return policy, to cover any defects you might encounter.
Availability: worldwide
Online Classified Ads
Finally, you might also want to check online local classified ads – big ones like Craigslist, Gumtree, Locanto, LetGo, Swappa, etc. as well as more localized ones like Australia Camera Market.
These options are definitely a bit riskier because there is no warranty and you can never be sure what you are getting, but this can be a way to get good used gear for very little.
Jess has successfully bought and sold camera gear via Craigslist in the USA. Just be sure to take caution when meeting people in person by meeting in a public place and be sure to test the gear before handing over your money.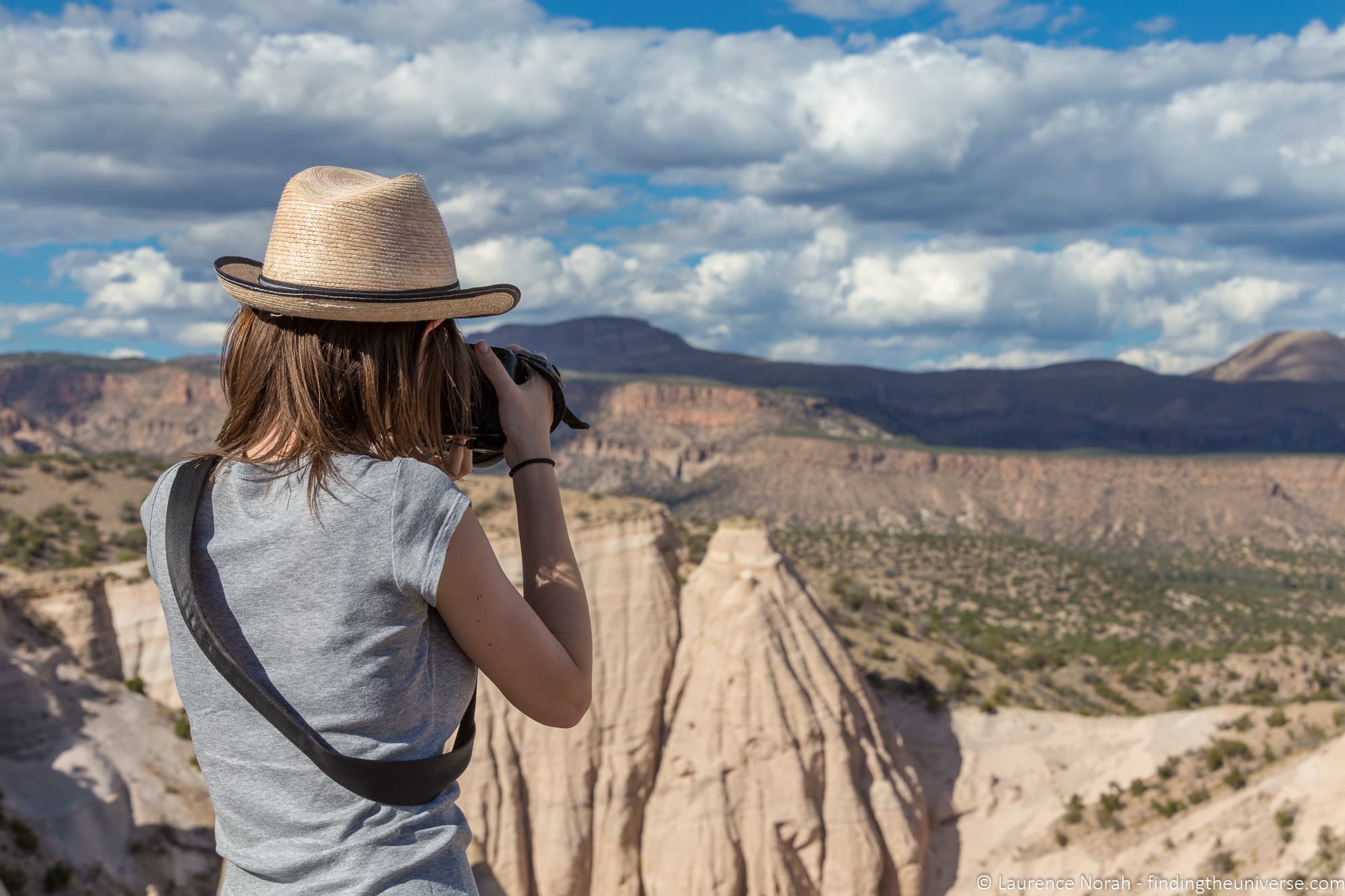 Tips for Buying Used Camera Equipment
Now that you have an idea where to buy used cameras and camera equipment, I wanted to share a few tips to help you ensure you get a good product.
Condition of the equipment
The most important thing when purchasing second hand products is the condition that it is in.
Most online stores will have some sort of rating system in place. Products will be rated from a "like new" condition down to lower qualities of condition.
Generally, the various ratings will largely reflect wear and tear from normal use, and should, for the most part, be cosmetic issues. If there are issues that affect the functionality of the product, these should be clearly outlined in the description.
I would personally avoid any items that have functional issues. Cosmetic issues are normally fine, but if something isn't working properly that is a definite red flag in my book.
If you are shopping online, you want to look in detail at the description of the product, which will describe the condition and any issues it has.
In addition, you will want to look at images of the product. For lenses, there should be images of the front and back glass elements, so you can see these are scratch and fungus free. Yes, lenses can get fungus in them, which can seriously impact image quality.
For a camera, you should also be able to ask how many photos it has taken. Most cameras have a mechanical shutter, which the manufacturer will rate for a certain number of images. For example, the Canon EOS 6D I own has a rated shutter count of 150,000.
In reality, my camera is well over that, having exceeded half a million shutter actuations. But in theory, Canon only assure trouble free operation for 150,000. If the shutter count is not listed, you can ask the seller to provide it. Of course, this number can be manipulated, but it is worth asking all the same.
If possible, you might want to ask for images taken with the camera, so you can identify issues like sensor dust. Whilst this can be removed, ideally you will start with a clean sensor.
If you are buying in person, it is obviously a lot easier to check all these indicators before you purchase. Don't be afraid to get hands on with the product and look at it carefully before purchasing. Ideally, you should also try and use it. If you are buying a lens for an existing camera for example, bring your camera along and try the lens out with your camera.
I'd definitely be wary of any in person seller who won't let you try any equipment before you buy it.
Seller reviews
If you are buying online through a site like eBay or Amazon, you are in likely going to be buying through a third party seller rather than directly from the store.
If this is the case, you definitely want to read the reviews that previous buyers have left for the seller. This should give you a reasonable idea of how they are to deal with, if they are legitimate, and what to expect.
Of course, smaller sellers might not have such a lengthy and complete review history, but in these cases, the price should be a little lower to reflect the higher risk. I would say that as long as the equipment looks good and you are covered by the site's guarantee, then you should still consider purchasing from these individuals.
Reviews aren't limited to the online world of course. Most camera stores which have a physical presence will likely also have reviews on a site like Google, Yelp, and TrustPilot. Here you should be able to see the experiences of other customers, and get a feel for the kind of customer service they offer.
Warranty
When you buy a new camera or lens, it will usually come with a warranty that covers manufacturing defects, and sometimes other problems.
When you buy a second hand camera, lens, or other photography accessory, the warranty will vary.
If you are buying a piece of equipment that is still within its initial warranty period, you should check if the warranty transfers over to you on purchase. This can be a good way to get some free cover for the equipment.
Otherwise, the warranty you get, if any, will usually be provided by the seller. It's important to check exactly what this warranty covers, and how long it is for. You will also want to consider any shipping costs that may be incurred if you have to use the warranty.
Ultimately, the warranty is about peace of mind, but it is worth investigating and making sure it works for you before you buy.
Returns / Repairs
All the major online sites that we have listed have some sort of buyer protection, whereby if the product you buy does not meet the description, you should be eligible to return it for a replacement or refund.
In our experience, sites like Amazon and eBay are very much on the buyer's side when disputes arise. This is good for you when buying equipment, and means that sellers really have to maintain high standards in order to be successful.
The main thing to check before buying is what the returns policy is, and what it covers. For example, does it cover you only in the event of the product being faulty, or does it cover you if you change your mind? Is accidental damage also covered?
It's important to find out exactly what is and what isn't covered, and what the process for claiming is. You should also check who is responsible for shipping costs in the event of a return.
Compare Price between New and Old
In all the excitement of snapping up a second hand bargain, don't forget to check the prices of the new version of the equipment you are buying. If it is a similar price, or only marginally more expensive to buy the product new, I would definitely not discount doing this.
Buying new will give you the peace of mind of a fully working product, with a full warranty.
Consider a New Previous Model instead of a Used Model
One other way to save money on photography gear is to consider a slightly older new model rather than the latest gear.
Cameras for example are often updated by camera manufacturers on an annual basis. Lenses have a less rapid iteration, but popular models do get updates from time to time.
When this happens, the price of the older models can fall dramatically as stores look to shift older stock. In many cases, the changes from model to model are not that significant, meaning if you don't mind not having the latest and greatest, you can save significantly and still get a great product, without having to buy second hand.
Further Reading
Hopefully this post has helped you plan your next second hand purchase of camera equipment. Before you head off, I wanted to share some more photography guides and resources that we've put together, to help you on your photography journey.
We have a guide to common camera problems, which you will probably find answers a lot of your camera questions, from blurry photos to fixing brightness issues
We have a beginner's guide to photography to help you get started. We also have a guide to the exposure triangle, which is a key photography concept to master early on.
Knowing how to compose a great photo is an important photography skill. See our guide to composition in photography for lots of tips on this subject
We are big fans of getting the most out of your digital photo files, and do to that you will need to shoot in RAW. See our guide to RAW in photography to understand what RAW is, and why you should switch to RAW as soon as you can.
You're going to need some way of editing your photos. See our guide to the best photo editing software, as well our our guide to the best laptops for photo editing
We have a guide to improving Adobe Lightroom Classic CC performance. It's our favourite editing software, but can be a bit slow if not properly configured!
If you're looking for advice on specific tips for different scenes, we also have you covered. See our guide to Northern Lights photography, long exposure photography, fireworks photography, tips for taking photos of stars, and cold weather photography.
If you're looking for a great gift for a photography loving friend or family member (or yourself!), take a look at our photography gift guide for some inspiration
We have a detailed guide to how to use a DSLR camera
We have a guide to why you need a tripod, and a guide to choosing a travel tripod
If you'd like a book to help you understand all this, check out this guide to mastering shutter speed, aperture and ISO
Our guide to the best travel camera – a great overall post to get started with
Our guides to the best compact camera, best mirrorless camera and best DSLR camera. These posts dive deep into each of these camera types to help you decide which might be best for you
Our guide to the best camera for hiking and backpacking. Different needs require different cameras, and this guide will help you pick a camera if you hike or backpack regularly
Our guide to the best lens for travel photography. If you buy a DSLR or mirrorless camera, you'll be able to change the lens. This guide will help you figure out the best lens for your camera and budget.
Finally, if you want to improve your photography overall, you can join over 1,000 students on my travel photography course. I've been running this since 2016, and  it has helped lots of people take their photography to the next level.
And that's it! Thanks as always for reading. If you've got any great places you shop for second hand camera gear, or any feedback or questions on this post or photography in general, do pop a comment in the comments below! We love to hear from readers, and will get back to you as soon as we can!