Puerto Vallarta is a destination that has been welcoming travellers for many years, and it's one of our favourite places to visit in Mexico. Whether you're a backpacker on a budget, a digital nomad looking to spend a month, a couple wanting a week-long vacation, or an expat looking to settle down, there's an area of Puerto Vallarta that's right for you.
The city is split up into neighbourhoods (zones), with the endless things to do in Puerto Vallarta spread out along Banderas Bay and beyond. In reality, it doesn't really matter which part of the city you stay in, as getting around is easy.
You will, however, want to choose your zone carefully based on the vibe you're after and the budget you have.
Here's a quick rundown of the zones in PV starting at the airport and going south:
Marina – more upscale than the hotel zone, with the Marriott Hotel, Westin & more.
Hotel Zone – just a few mins drive from the airport, this area has many hotels, restaurants, malls, a Walmart & Sams Club.
Centro (Old PV) – smaller homes, residential area, the Malecon (oceanfront promenade) runs along here, many restaurants and bars. This area is on the north side of the River Cuale and offers affordable accommodation.
Centro (Romantic Zone) – located on the south side of the River Cuale, you'll find numerous bars, cafes, restaurants and Playa Los Muertos Beach. This is a popular area with a large gay community. The accommodation ranges from budget to top end.
Conchas Chinas – meaning "Chinese Shells" based on the seashells found here, this is a more affluent/posh area of Puerto Vallarta with gated communities and high-end condos.
Learn more about where to stay in Puerto Vallarta with our accommodation and neighbourhood guide. And, for a complete rundown on travelling to the city of PV, check out our detailed guide here.
Now that you have an idea of what each neighbourhood has to offer, here is my list of 20 cool things to do in Puerto Vallarta!
1. Walk…Everywhere!
I have to put walking as #1 on the list of things to do in Puerto Vallarta. Exploring on foot is the best way to get a feel for the city, and most areas of PV are reachable by walking.
This is a great way to see what the vendors are selling, to people watch and to get a lay of the land. You never know what you'll stumble across when discovering the city on foot…just make sure to wear good shoes as the sidewalks and roads are very uneven.
2. Join a Food Tour
Did you know that Mexico's cuisine has made the list of Intangible Cultural Heritage of Humanity by UNESCO? This award hasn't been granted to any other national food groups! Mexican food is so much more than tacos and quesadillas and the best way to learn more about the tasty foods is to join a tour.
We've done food tours all around the world, and our favourite ones are in Mexico. In Puerto Vallarta, check out Vallarta Food Tours. This company offers a mix of culture, walking and food tours, making it a great way to learn about the city of PV while simultaneously feasting and working off the calories.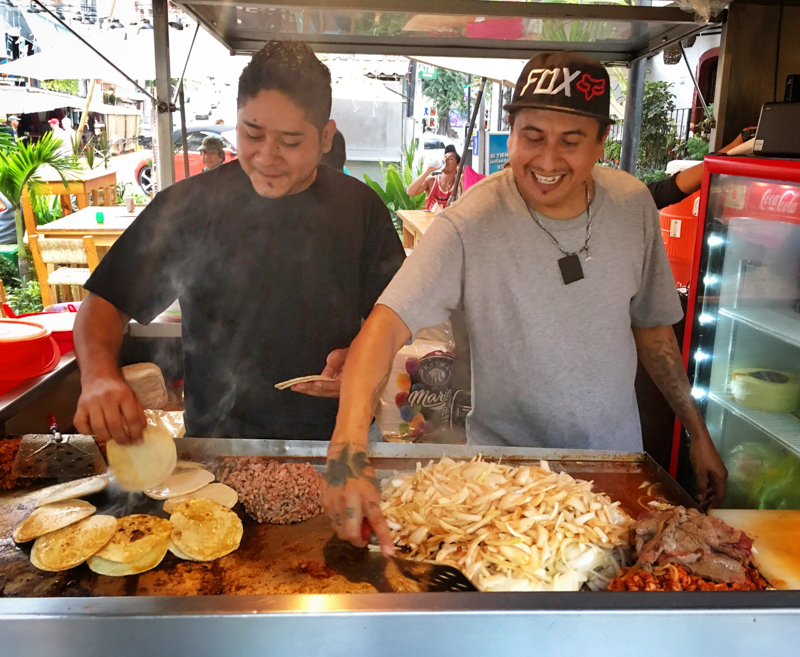 There are a few foodie tours on offer with Vallarta Food Tours, but we went on the "Original Downtown Tour", which took us through the center of PV on both sides of the river. We ate numerous dishes and tried some drinks as well. We highly recommend this tour if you're a foodie! Click here to learn more and check out the video we made:
3. Rhythms Of The Night (one of the best things to do in Puerto Vallarta!)
If you're looking for a mini Cirque de Soleil / cultural show / dinner / theatre experience, then Rhythms of The Night will be something you want to check out. We saw this performance a few years ago and although we're not big fans of large group tours, this show was spectacular and worth every penny. This is one of the top tours in Puerto Vallarta.
The evening starts with a sunset cruise (including open bar) across Banderas Bay to Las Caletas, which is a beautiful private cove. When you arrive, you'll be greeted by a beautifully lit area with tiki torches and candles.
You'll then be shown to your seat in the outdoor auditorium, which is surrounded by palm trees. The seats are all staggered, so even though there are people sitting in front of you, you'll have no issues seeing the show.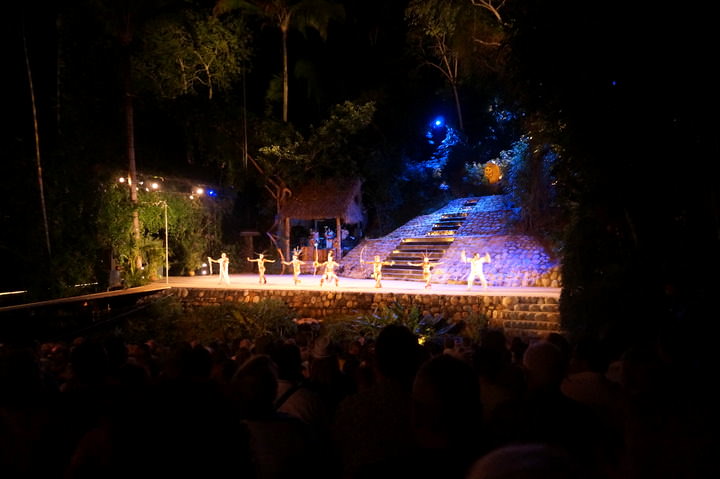 The show depicts various stories of the ancient Hispanic civilization and Mexican folklore. During the performance, there's live music, dancing, contortionists, fire-twirlers and more. Following the show you'll enjoy a large buffet dinner before returning to Puerto Vallarta by boat. Don't miss this show! ☞ Click here to learn more about the tour and to book tickets.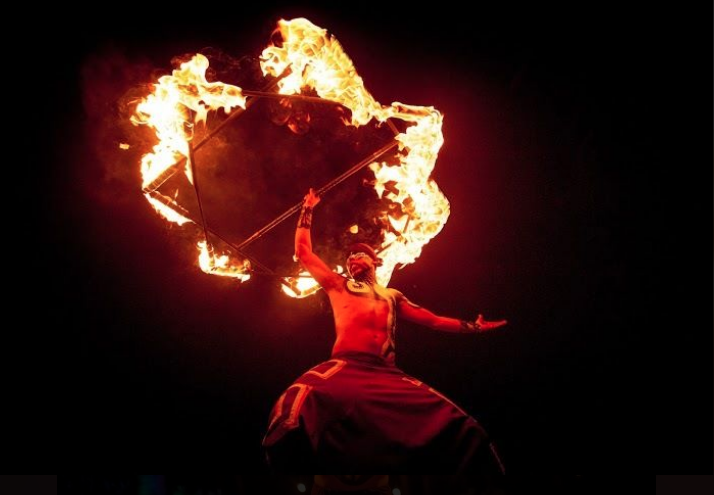 ⇒ See Also: Things To Do in Mazatlan – 21 Experiences You Don't Want to Miss
4. Watch Sunset
There's just something about the sunsets on the Pacific Coast, and in particular, Puerto Vallarta. Some of the best sunsets we've ever seen have been from here. Grab a drink and enjoy the show. Great viewing places include anywhere along the Malecon, up the hill behind the Church of Our Lady of Guadalupe, or from El Barracuda which is our favourite beach bar.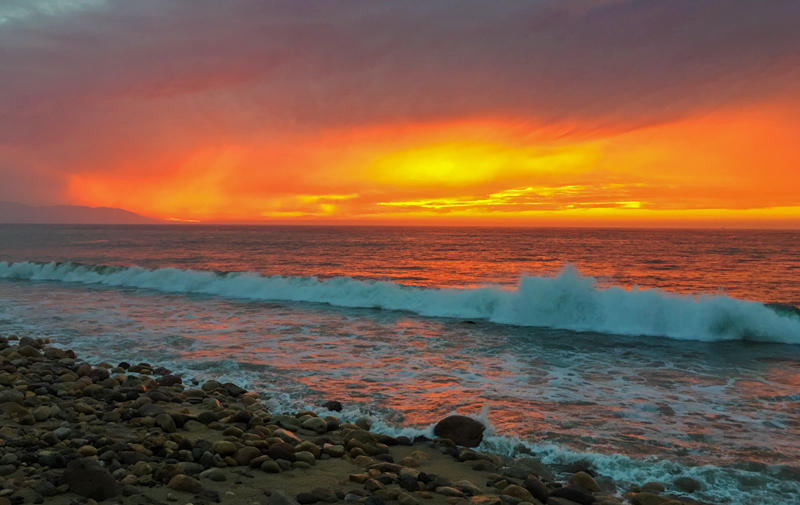 *Note: Puerto Escondido is another epic Pacific Coast destination for sunsets in Mexico. If you have a chance, try to visit there as well!
5. Playa las Gemelas
Surprisingly, just about 20 minutes drive south of Puerto Vallarta, you'll find beaches that look like they should be Cancun or Playa del Carmen rather than the Pacific. Playa las Gemelas has turquoise water and whitish sand. When we visited, there were quite a few waves, but no riptides or undertow and the waves were fun to swim in. Other visitors have had completely calm water here, so it really just depends on the weather, and the time of year.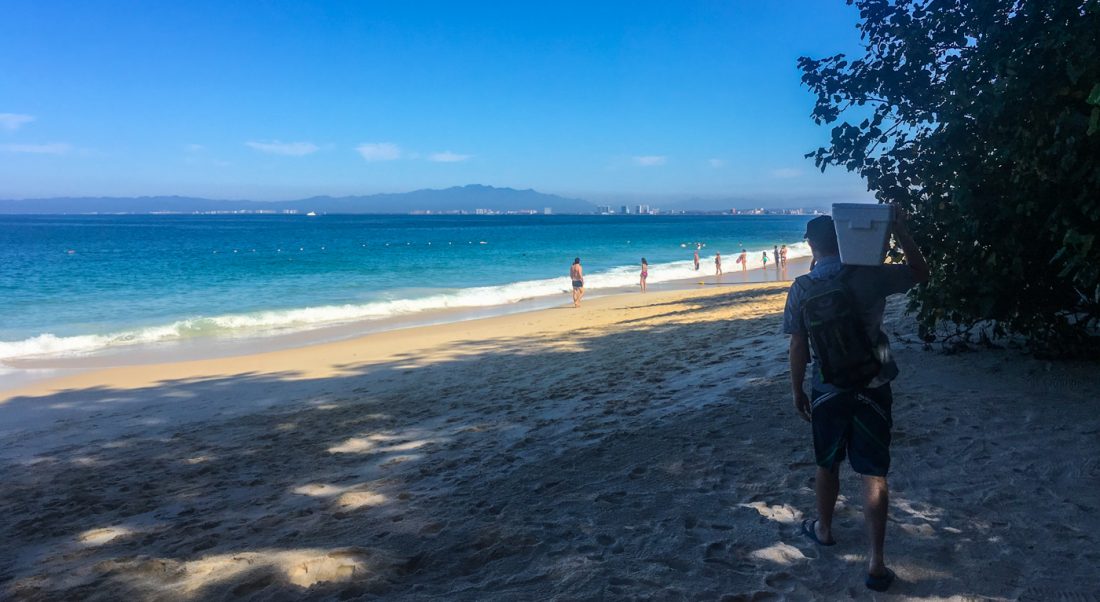 There are just 2 condominium complexes on the beach and nothing else…not even any toilets. Bring a cooler filled with beer, water and snacks and spend the day. The walk to the beach is fairly steep and down some uneven steps, but it's worth it when you see the view.
To reach here, you'll want to park at Condominios Girasol Sur (in front along the road). There is no actual parking for the beach, so you'll need to find some on the street, or in the few roadside spots in front of Girasol Sur Condos. Alternatively, you can take a local bus and get dropped off here.
This is by far our favourite beach in the area. Don't miss it! Click here for directions.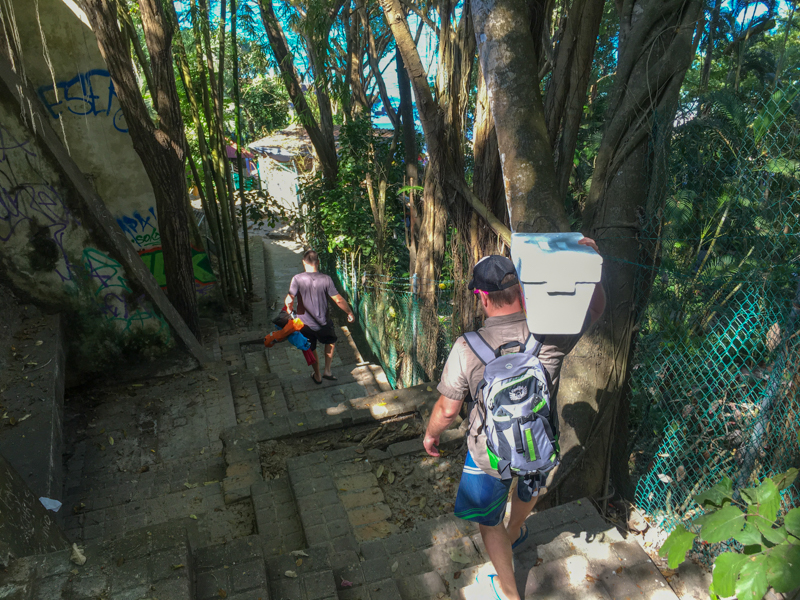 6. Booze Tour (with a side of food)
For those of you who like to drink tequila – it's Mexico, who doesn't?! – this tour is for you. During our recent trip to Puerto Vallarta, we joined the "Mex-ology" tour and enjoyed a late afternoon of Mezcal, Tequila, Raicilla, craft beer, Kahlua coffee and other hand crafted cocktails.
To go along with the booze, you'll get some tasty food to help soak up the alcohol. The dishes we had were full portions of fish tacos, meat tacos, seafood "enchiladas", onion rings, crickets (yes, crickets!) and delectable dessert. Not only will you be having fun, and feeling a bit tipsy by the end of it, but you'll learn a lot about the traditions and creation of these alcoholic beverages.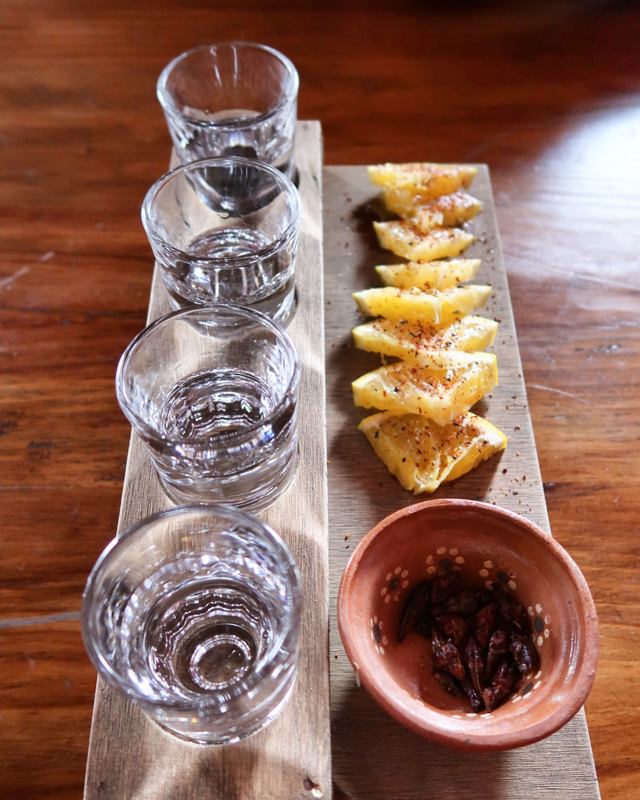 We had a great day with our guide. So much fun in fact, that she took us out for some late-night shenanigans where the expats and locals like to hangout! Click here to learn more about the Mex-ology Tequila, Tacos & Cocktails Tour.
7. Eat Fresh Oysters
While there's definitely a Puerto Vallarta restaurant for everyone, sometimes it's nice to eat street (beach) food. If you're an oyster lover, you'll be happy to know that you can get fresh oysters on the beach.
Just under the bridge that crosses the River Cuale, you'll see many vendors selling these tasty morsels. Plastic tables and chairs are set up so you can sit and enjoy your plate of food by the water, or you can take them to go. Squeeze some lime juice on, sprinkle with some salt and add some hot sauce if you like. Enjoy!
☞ SEE ALSO: Playa del Carmen Mexico: The Ultimate Travel Guide
8. San Pancho
About an hour drive from Puerto Vallarta is the beach town of San Pancho (San Francisco). This small town isn't as quiet as it once was, but it's still a nice place to visit. What's surprising is that even though it's not a very big place, there are lots of things to do in San Pancho.
You can go golfing for the morning (or late afternoon), eat some really good international food, take Spanish lessons, do yoga, go surfing, watch the baby turtles be released and more. It's a cool place to spend the afternoon as it's just an hour away from Puerto Vallarta. Note, the ocean here is quite rough and isn't a great place for swimming. You could check out Bucerias for swimming.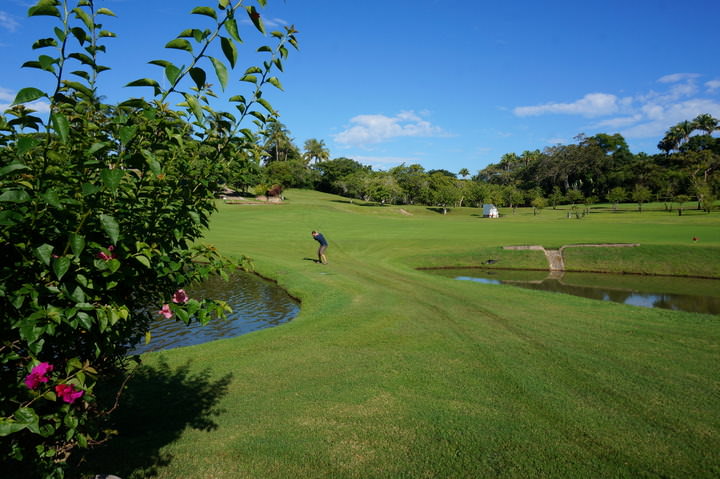 9. Walk The Malecon
One of the many great things about Puerto Vallarta is the long Malecon (oceanfront promenade) which runs for about 1.5 kilometers (1 mile). This is the perfect spot to enjoy a stroll, without having to deal with the crazy traffic that whizzes along the narrow streets.
Along the Malecon you have the beautiful ocean on one side, and many shops, restaurants and bars on the other (selling $1 margaritas and Coronas!). There are also numerous art installations and street performances as well here. The Malecon is the hot-spot, especially in the late afternoon and evenings when it's a cooler temperature. And actually, wandering along the Malecon is one of the most popular things to do in La Paz as well.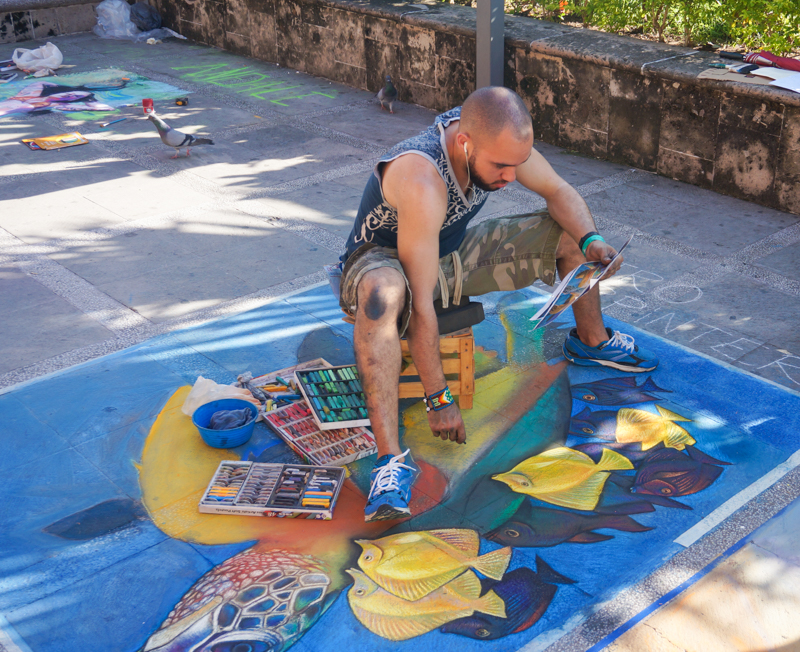 Where to Stay in Puerto Vallarta
There are numerous resorts, hotels, boutiques, hostels, Airbnbs and apartments for rent in Puerto Vallarta.
☞ Click here to compare prices and see reviews of the best accommodation on Booking.com
If you want to stay in an Airbnb in Puerto Vallarta, click here to sign up for free and receive up to $55 off your first booking

In Puerto Vallarta, we've personally stayed at the Catedral Hotel Vallarta Boutique and at this Airbnb apartment. Both were great and we recommend them. For more on the best Puerto Vallarta hotels and where to stay, click here.
10. Chocolate Making Class
The Choco Museum is one of the many free things to do in Puerto Vallarta. If you're interested in learning the history behind cocao, plus finding out how chocolate is made (from harvest to production), then the museum is for you.
If you want to get your hands dirty, and EAT some delicious chocolate, then make sure to join one of the (paid) classes at the Choco Museo. Learn how to make traditional mole sauce, hot chocolate truffles or individual chocolates. Click here to learn more about the workshops and classes.
☞ SEE ALSO: Things To Do in Cabo San Lucas – A List of The Top 21
11. Mountain Biking Trip
Although lounging by the beach and devouring tacos is always a good idea when travelling to Mexico, it might be a good idea to get some exercise every once in a while!
Eco Ride is an eco-conscious company in Puerto Vallarta who offer mountain biking and hiking trips in the surrounding jungle trails of the Occidental Sierra Madre. If you're into adventure and being active, this is one of the things to do in Puerto Vallarta that you won't want to miss.
They have biking tours for beginners and advanced riders, plus they offer different length trips as well – from 15 to 48 kilometers (9.3 – 30 miles). The routes pass through villages, waterfalls, rivers, pine trees and more. Click here to learn more about Eco Ride and the biking and hiking trips they offer.
*Note: if you'd rather combine exercise with eating, Vallarta Food Tours has a new tour called Bikes & Bites…check it out!
Not into biking, but still want to be in the mountains?
Although we've never done this in Mexico, zip-lining through the beautiful canopy is one of the most popular things to do in Puerto Vallarta. You'll be at the foothills of the Sierra Madre Mountains and can travel through the jungle over 2 miles (3.2kms) of zipline. The tour is run by Los Veranos Canopy Tour, which has a 5 star rating and over 2,500 reviews on TripAdvisor. Click here to learn more and book this tour. And, if you find yourself in the Yucatan, ziplining is one of the best things to do in Cancun as well.
12. Los Muertos Beach
This is the beach south of the Los Muertos Pier. And, as with the stretch of sand north of the pier, there are a lot of activities going on – from swimming and surfing, to parasailing and boating. Plus, you'll find numerous beach restaurants and bars here.
There are vendors wandering up and down the beach as well, but they aren't too pushy. Near the south side of the pier, you'll find lots of local families spending the day (especially on weekends), while further south from there is considered the gay area, which is always busy and a lot of fun.
When we visited Los Muertos Beach in December, the waves were incredibly big and the surf and undertow were unbelievably strong. The rough water started from the pier and went north to the La Langosta Loca restaurant. However, on the south side of the pier, the water was calm and children were swimming. Be mindful of the ocean and when in doubt, always ask a local if it's safe to swim.
☞ SEE ALSO: 51 Awesome Things To Do in Mexico
13. Wander The Old Town
Puerto Vallarta has a beautiful old town with cobbled streets and colourful homes climbing up the hill. From near the church, you'll see rock / cement steps heading up the hill. Take the steps and continue walking along the back roads towards the Romantic Zone. As most people take the Malecon or the main streets, you'll have the quiet "upper" roads basically to yourself!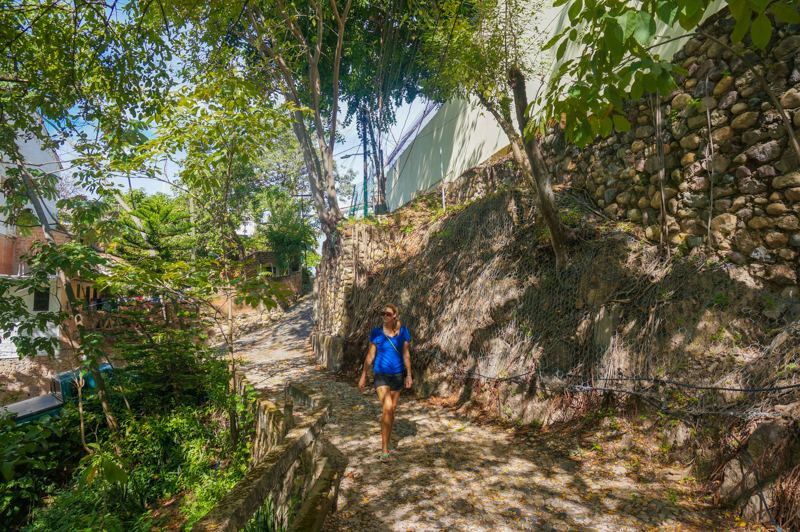 You'll come across homes draped in vines, cats sleeping on steps and pretty wrought iron balconies. After you've finished exploring and enjoying the peace and quiet, you can come out near the Rio River.
For an amazing view, you can hike up to the Mirador Cerro de La Cruz. It takes about 30 minutes and is a bit strenuous, but the view is spectacular. Bring lots of water and wear good shoes.
14. Go Scuba Diving
Getting on the water is always a good idea when travelling, but so is getting under it! Whether you're scuba certified or not, check out Banderas Scuba Republic. This company is PADI recognized and the team is PADI certified.
At this scuba shop, you can take classes and lessons to get your certification, or if you already have your Open Water, you can go for some dives. Expect to see turtles, rays, eels and more. Banderas Scuba Republic is located in the Romantic Zone, stop by and check them out.
Note: We did not personally dive with Banderas Scuba Republic, they were just highly reviewed on TripAdvisor. Always do your own independent research when choosing a scuba diving company.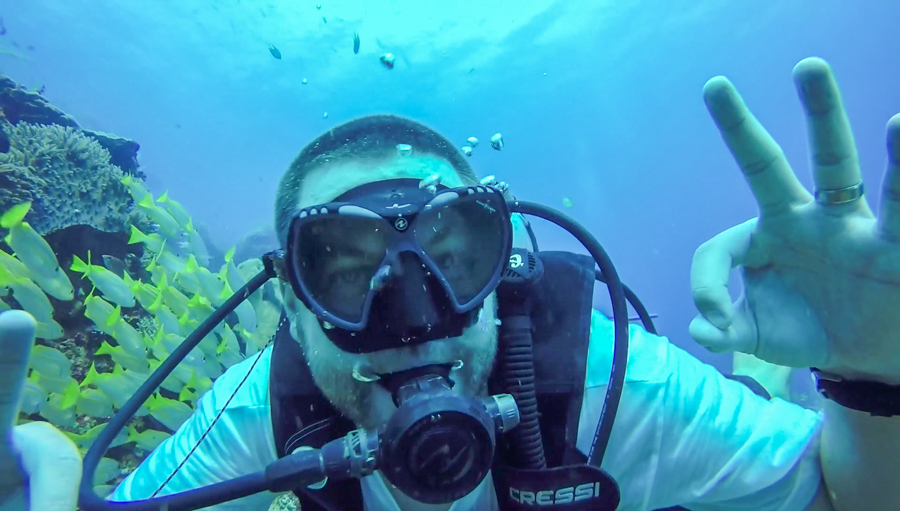 15. Free Walking Tour
Walking on your own is great, but if you want to learn a bit more about the city of Puerto Vallarta, including its culture, history and architecture, then it's best to join a walking tour with a knowledgeable guide.
Every Tuesday (9:00am and noon), Wednesday (9:00am and noon) and Saturday (noon), there are free tours put on by the Municipal Tourism Office. The meeting point is at the Municipal Tourism Office, which is in the Old City Hall Building. The tour is about 2 hours long and no reservation is required.
Looking for more Mexico posts? See Also:
Things To Do in San Pancho – A List of The Top 15
Things To Do in Playa del Carmen – A List of The Top 21
Things To Do in Guanajuato – A List of The Top 10
Places To Visit in Mexico – Top 33 Spots
Backpacking Mexico – Top Reasons To Travel Here Now
16. Free Art Walk
Puerto Vallarta has the most art galleries of any Mexican coastal city. On Wednesday evenings, many of the art shops open their doors and allow visitors in to view the pieces. All mediums of art are on display, including paintings, sculptures, pottery and folk art.
Entrance is free, there is no guide, but there is usually wine and tequila given to visitors…for free. The "art walk" runs from 6:00pm to 10:00pm, every Wednesday until May 30, 2018. This is a yearly event.
17. Visit the Church Of Our Lady Of Guadalupe
You can't miss the church when you visit, literally. Towering over the center of Puerto Vallarta is this beautiful piece of architecture. Whether you're religious or not, I recommend taking a peek inside, and of course, taking loads of photos of the ornate exterior.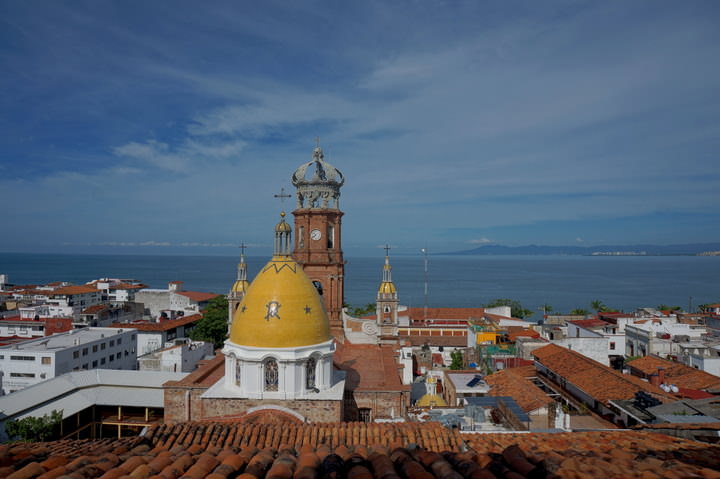 If you find yourself in the city from December 1 – 12, you'll be able to enjoy the celebrations for the Our Lady of Guadalupe Festival, which includes candlelight processions, colourful parades, and of course, food.
18. Visit Mismaloya
Located on the southern part of Banderas Bay, you'll find the fishing village of Mismaloya. This is where tourism in the Puerto Vallarta area all started, back in 1963 with the filming of Night Of The Iguana. This is what kicked off tourism in the area.
These days, Puerto Vallarta has more tourism, while the bay at Mismaloya is still relatively quiet. The pretty bay is backed by thick jungle, there are restaurants lining the beach and you'll have views of the Los Arcos Marine Park. There is, however, the Barcelo Resort which takes up much of the bay, but it's still a nice place to visit.
☞ SEE ALSO: Things To Do in La Paz, Mexico – A List of the Top 21
19. Check Out The Markets
Visiting the markets in Mexico is always a treat. In Puerto Vallarta, you'll find food, fish, clothing and trinket markets. Don't miss the Municipal Market of Colonia Emiliano Zapata, which is a great place to purchase fresh produce. This market runs from 6:00am to 3:00pm, 365 days a year. Click here for directions.
Also, if you want produce and fish, check out the Municipal Market in December 5. Go early to get the best selection of seafood. In the strip of vendors, you'll find meats, vegetables, tortillas and other items. This is a great place to take food away, or to create a delicious lunch! Visiting a local market is one of the best things to do in Puerto Vallarta. Click here for directions.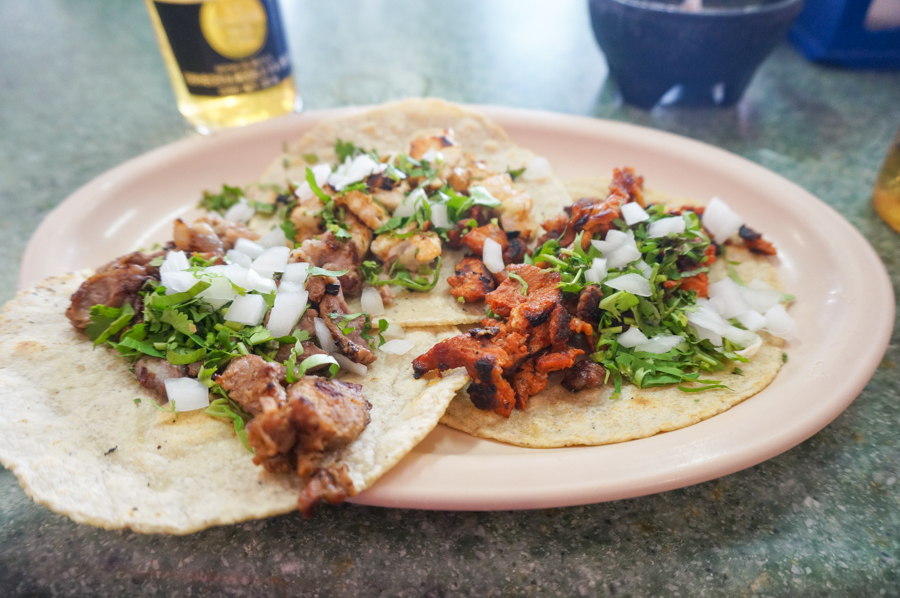 20. Do Some Hiking
If you want to do some independent hiking, you won't really find it in the city itself. But, if you take a bus, or drive your car out to Boca de Tomatlan, you can do a really great day hike to Las Animas. The path winds along the ocean, with the jungle on one side and the beautiful water on the other.
You'll hike along stone stairs and narrow paths, while arriving at lovely secluded bays along the way. If you're lucky, you'll spot some whales or dolphins playing in the water.
The entire hike takes about 2 hours to complete, and once you arrive at Las Animas, all that's left to do is enjoy the beach, and one of the many restaurants on offer. To get back to Boca, you can take a boat from Las Animas, or hike back the way you came. For more information on how to do this hike, click here.
Enjoy The Things To Do in Puerto Vallarta!
I hope this list of 20 things to do in Puerto Vallarta helps you plan your trip. While the city is quite touristy, it's popular for good reason and we really enjoy our visits here. Make sure to sample the tasty street food whenever you can, explore the local markets and enjoy walking around the city. Let us know what you would add to this list in the comments below! Happy travels

Like This Article? Pin it!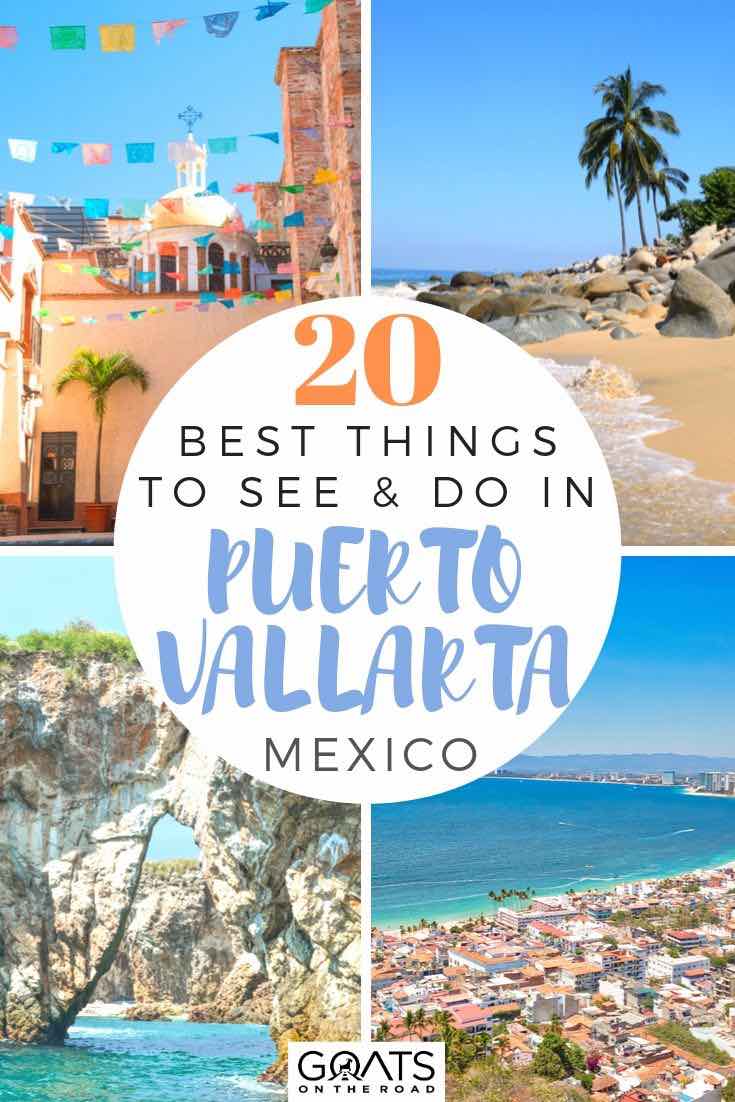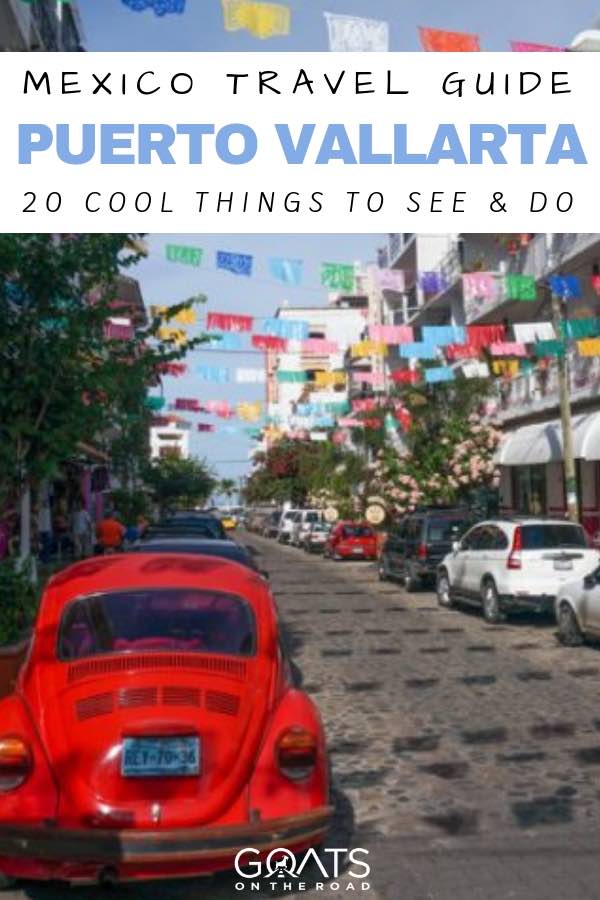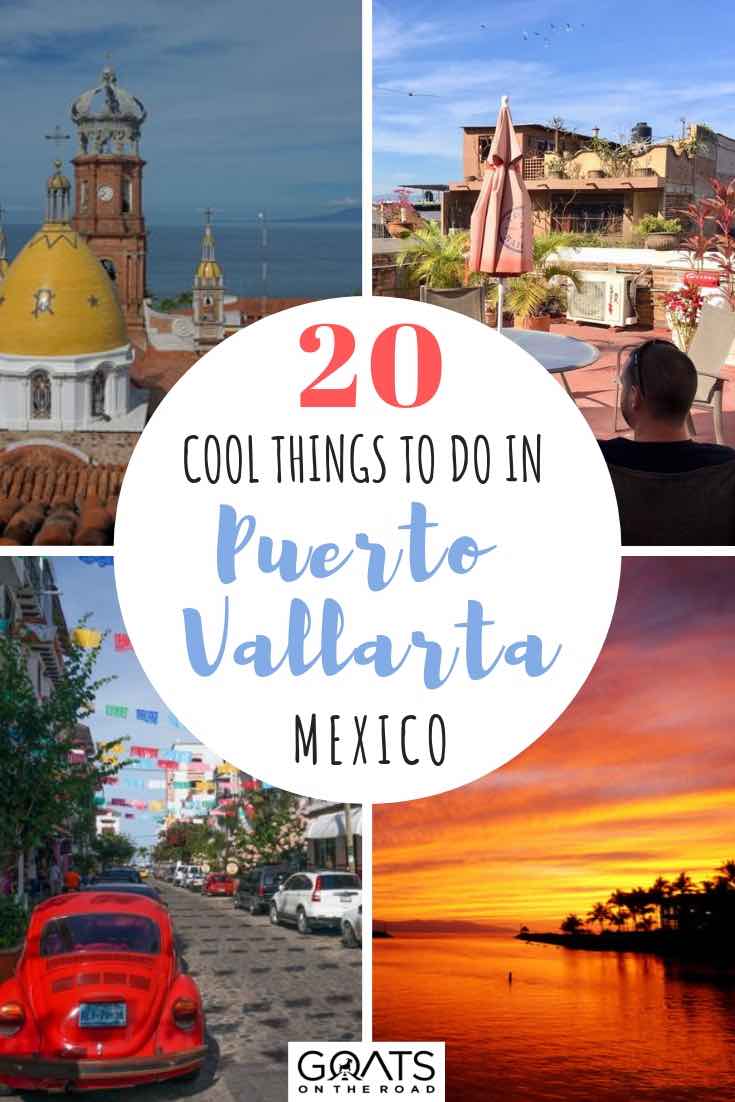 The post 20 Cool Things To Do in Puerto Vallarta, Mexico appeared first on Goats On The Road.